▫

Commercial


▫

Industrial


▫

Steel Structures
Built with Business-level Project Management
At Apex, our commercial construction team takes pleasure in offering business level support and solutions throughout the construction process. Whether you are looking for a commercial storefront, an industrial shop, steel structures or other business buildings, we work with you at whatever level you require.
We can provide you with a structure, or a full package from engineered design to final interior finishing.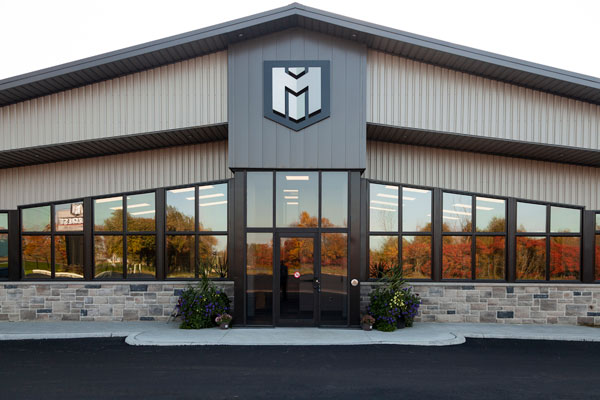 COMMERCIAL CONSTRUCTION
Commercial projects can include:
■ Storefronts
■ Office Buildings
■ Retail Space
■ Institutional & Public

Apex coordinates and assembles a team that moves your project from concept to completion. We have experience and expertise in a broad range of markets, and bring a unique level of attention to detail in your final finished space.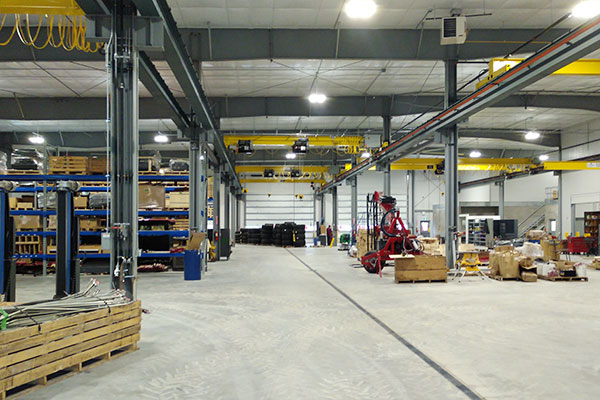 INDUSTRIAL
CONSTRUCTION
Industrial projects include:
■ Manufacturing Facilities
■ Wholesale
■ Food Plants & Processing

Industrial design and construction explores efficiencies that maximize space and usage. From planning to finalization, Apex helps make your valuable space count while providing value and quality throughout the construction process.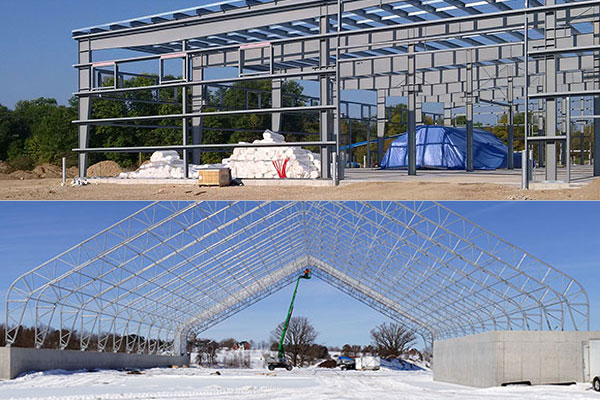 STEEL-BUILDING
STRUCTURES
Apex offers both:
■ Rigid Frame
■ Fabric Covered

We have access to a wide variety of rigid and fabric-covered brands and can recommend the building that best fits your project's requirements.
Project Management Options
At Apex, we offer project management approaches that fit each client, and that mutually respects the level of involvement required. Explore our typical approaches below.

CLIENTS
In the Bid-Spec approach the client manages the project, handles the design and engineering, the permit process, the site plan process and the tendering process.
APEX
We provide a stipulated price contract quote for the work defined in client-supplied drawings and specifications. We assume the role of general contractor and take the project from permit stage to final move in. This approach provides a turnkey project from drawing stage to completion.
PROS Using the Bid-Spec allows clients the maximum involvement in the design and permit stages. Clients can also use the bid-spec package to obtain multiple and competitive pricing from more than one contractor. CONS Bid-Spec requires the client to spend up front money, with little or no contractor involvement.  Design and construction stages are more segmented and construction of the project is closed book
CLIENTS
With the Design-Build model, the client obtains the services of a contractor before official design begins.
APEX
As the prime consultant on the project, we coordinate the design process, drawings, engineering and permits. Our in-house designers provide design concepts, 3D renderings, working drawings for permit, and work closely with architects and engineers as required. Apex can provide prime consultant services from zoning, site plan, permit, all the way to closeout.
On site, we function as the general contractor and coordinate the project and sub contracts from permits to completion.
PROS Design & Build brings the contractor onboard at an early stage, and can simplify the process and provide valuable consultation throughout the entire project, from design to completion. CONS For the client, bidding from multiple contractors occurs pre-design and is an exploratory comparison rather than a fixed priced comparison like Bid-Spec.
► Construction management
CLIENTS
Construction management approaches a project much like the Design & Build option, but is more open book, and offers a flexible approach to client involvement. Clients are part of the required decision making process.
APEX
As Construction Manager, we are responsible to build the team on behalf of the client—networking the client, consultant and contractors to create seamless coordination throughout.
We also arrange and provide construction budgets throughout the design, then arrange the tendering process with the involvement of the client. Together, we consult on a mutually beneficial sub contract tender list, and while we ensure the tenders are accurate comparisons, the client makes the final decisions on all sub contracts.
Throughout design, tender and close out, we are responsible to maintain an accurate construction budget.
Apex functions as the general contractor on site and coordinates the schedule and on-site project from start to completion.
PROS Construction Management leverages the advantages of having contractor involvement from day one, yet without a closed-book project approach. It allows for a flexible, integrated approach between the client and Apex. CONS The budget cannot be necessarily fixed before the project. While the Construction Manager is responsible to ensure budget accuracy,  costs are still invoiced through at actual costs levels.
Commercial / Industrial Portfolio
Any great project begins with great conversation. We'd love to talk, business to business.
"We contracted Apex Building to develop a new lab and related structures... Apex took into consideration our tight deadline with virtually zero disruption to our production schedule. Apex did a phenomenal job and completed the project early and on budget. Their team of project managers, supervisors, and support teams are dedicated, hardworking, professional, thorough and committed to excellence. Because of our outstanding experience with Apex Building, we will keep them in mind for all future projects - and highly recommend them."